What I Learned From Take Your Child to Work Day at Tech Frederick
TalentCMO team attended this morning's Tech Frederick breakfast. Austin Meyermann, CEO of TalentCMO, brought someone special to the event, his oldest daughter Lily (12). It was "Take Your Child to Work" day and Lily got to experience a networking event as well as the office life.
Lily heard an inspirational and important speech of "Do's and Don'ts of Starting & Operating a Business" by Steve Chafitz, President of e-End. She also had a chance to experience networking and introduce herself to tech leaders in Frederick. She was so excited that when she got to the office, she wrote a reflection on what she learned from the event.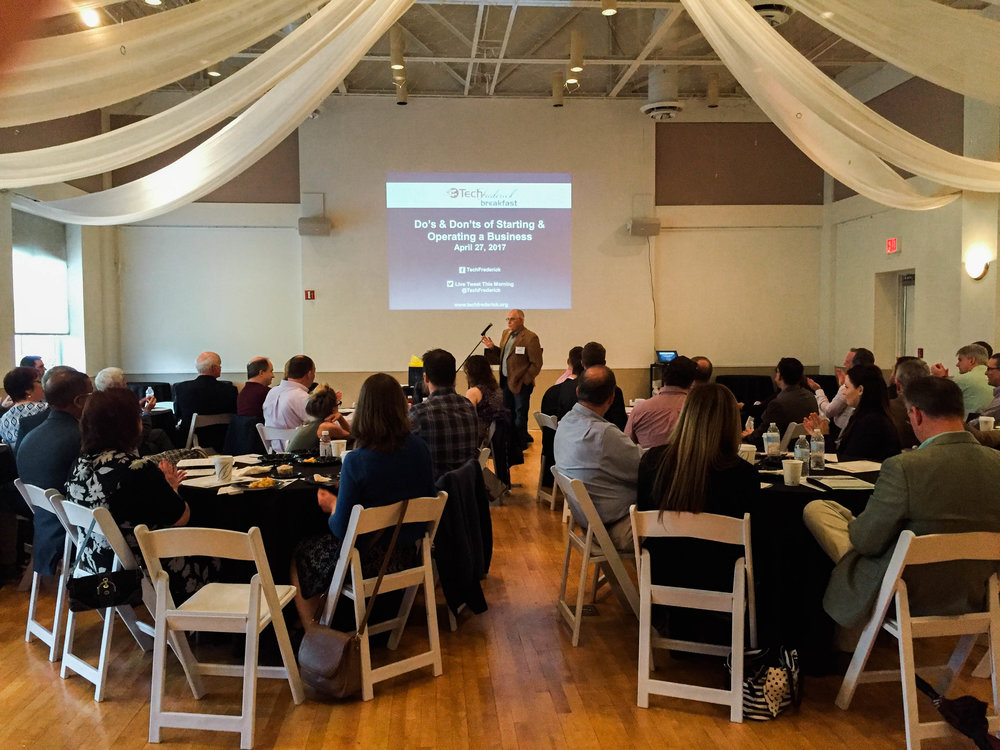 HERE'S WHAT LILY WROTE ABOUT WHAT SHE LEARNED FROM ATTENDING TECH FREDERICK:
"I learned some very important things during the Tech Frederick meeting. I learned that once you find your place in the world you can find dozens of other people that found their place and dozens of other people that are right there with you. I learned that once you have an idea you need to get up and go and share your idea with the world. There is no reason to hold back on an idea or keep it from others. Once you know and have an idea tell it to anyone you can and get their feedback. I also learned that it will benefit you if you ask people about themselves instead of only talking about what you want. You can say instead "Hi my name is ____ and I was wondering about your business." That will get you pretty far. Those are the things I have learned from the Tech Frederick meeting."
We are so happy that Lily learned so many great things just from one event. We are also very grateful to Vaughn Thurman, Founder and CEO of Swift Systems, for extending an invitation to us for this event.
Written by: Ana Filipovic Windsor, Digital Marketing Specialist, TalentCMO
Links and Other Interesting Stuff:
Interested in future Tech Frederick events? Like their Facebook page to stay up to date!
Looking for interns? Join our Teaming for Talent program and connect with students in Maryland, D.C., and Virginia.
Click here to register for an upcoming Brunch & Learn event on Career Development and Advancement, hosted by Generation Connect and featuring Austin as one of the speakers. We're looking forward to see you!