TalentCMO's first event: Recruit Forward
On Thursday, March 30, TalentCMO hosted its first of many, Recruit Forward event. During our Lunch & Learn session, we welcomed over 25 human capital leaders from the community into the Frederick County Chamber of Commerce training room and talked about new strategies and approaches to help attendees find and hire the best talent in today's market.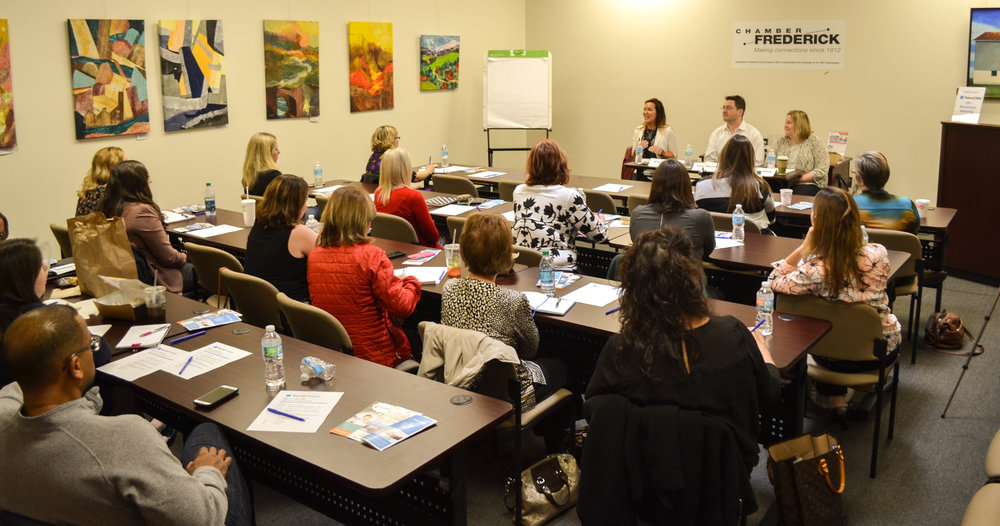 The event started with networking and refreshments at 11:30 am. At 12:00 pm, Ana Filipovic Windsor, TalentCMO's Digital Marketing Specialist, kicked off the event by introducing the panelists. Our dynamic speakers shared their expertise and proceeded to answer questions from the audience. As you can see from pictures above, the house was packed with HR Managers, Recruiting Specialists, and individuals interested in learning more about hiring top talent. Please see details below for each panelists, including full videos of their speeches.
Briana Campbell, Area Director of Onelife Fitness of Frederick, spoke about the importance of the cultural fit. She emphasized that someone may have the skills, but they might not be a fit. Briana pointed out the value in observing a potential employee's behavior towards strangers as they interact with them on their way to the interview. She also reminded on the value of email and social media etiquette.
For Briana's full speech, please check out the video below:
Austin Meyermann, CEO of TalentCMO, introduced a new look at recruiting by stating that recruiting is a "consumer marketing exercise." He further shared methods of crafting content and applying technical marketing tools to build a pipeline of talent pre-demand, because on-demand is usually too late. At TalentCMO, we call this an ER visit, rather than a wellness program for your recruiting and hiring needs.
For Austin's full speech, please check out the video below:
Amanda Haddaway, Managing Director of HR Answerbox, suggested what overworked HR Managers can do to fill openings. She also pointed out that this process is more than the paper job description. In the end, she gave a small task, rather say "homework," to attendees. She asked them to try to apply to their own jobs within their companies and ask themselves what type of an experience this has left on them.
For Amanda's full speech, please check out the video below:
We hope everyone gained something from the event and we hope to see even more attendees at our next event! If you are interested in our future events, please click on the button below to sign up and be the first one to know about our events.
Good luck with your search for talent and matching top talent with the right opportunity!
Written by: Ana Filipovic Windsor, Digital Marketing Specialist, TalentCMO
Links and Other Interesting Stuff:
Do you currently have open positions within your company? Do you plan to do any hiring this year? If YES, then reach out to us for a FREE audit of your Employer Brand! Click here to contact us today.
Check out this sweet Career Showcase (a standalone microsite built for candidates to show company's authenticity) that we built for one of our clients.
Looking for interns? Join our Teaming for Talent program and connect with students in Maryland, D.C., and Virginia.